Dragon Carp Boots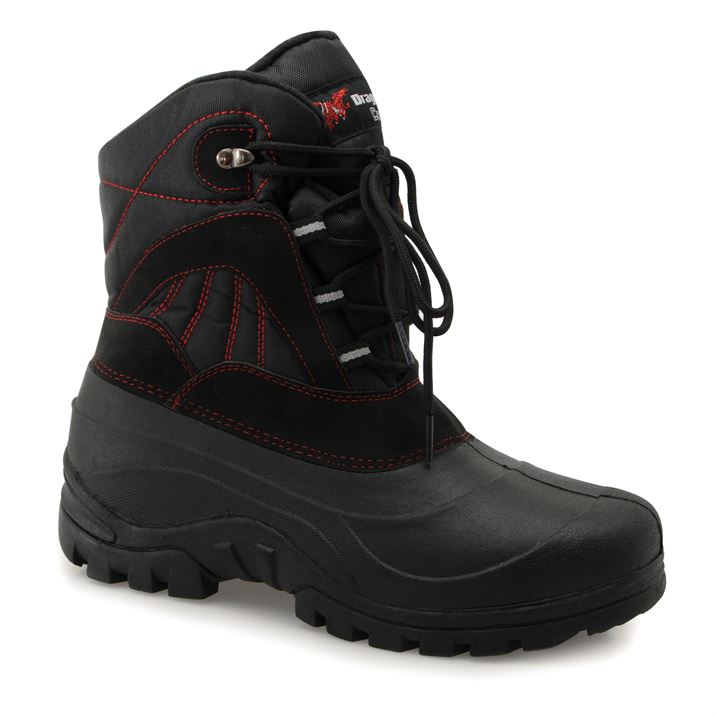 Review of Dragon Carp Boots
The dragon carp boots impressed me very much, they are very comfortable even with my awkward feet, they stayed warm on the chilly bank and kept any form of moisture out, from the dew on the grass to puddles of soggy mud, they keep your toes dry and warm all the time. they are very supportive and are great for walking a lot and very flexible for different feet positions making them great for fishing when walking to and from swim, changing swims, kneeling down when going for an opportunists cast in other swims.
Some good features of them include the tongue of the boot, thick and padded so not only do they keep the top of your feet warm and protected but they mean you can have the laces done up extremely tight without it cutting into your feet and making it uncomfortable. It is also attached to boot along the edges which means that wind cannot get inside giving it an added form of keeping the warmth in and the cold out. The laces are heavy duty so pulling them tight is no problem at allso there is no need to worry about fraying or becoming weak and breaking.
They are currently available at:
Available from SportsDirect.com
for just £14.99
The inside feels very nice, with fur lining it feels very soft and supportive on your feet just like walking on air, it is very good for keeping your feet warm and even through 2 layers of socks it was soft and very welcoming to the feet. the soles are thick, rubbery and with very nice grip meaning it is like having suspension on your feet whilst keeping you where you are even on a steep and slippery bank. This aspect again keeps your feet warm as your feet are off the ground with a  lot of rubber between your feet and the ground so no cold from the ground can seep through into your toes.
However overall the best thing about these boots cannot be explained with features, reasons and  explanations, in my opinion they are some of the best shoes I have worn for a very long time and I am hard to please when it comes to shoes but these boots seem to fit perfectly, they are warm and comfortable whilst being practical and efficient. The fact that they are big doesn't even  cross your mind whilst wearing them, the flexibility is enough to give your feet complete freedom of movement and making foot positions no problem, they are nice and light off feet but when you put them on they are hardly noticeable, so in my opinion they are just very good boots with a brilliant  design and perfect for fishing or any activity similar or not.
Available from SportsDirect.com
Thanks for reading, hope it helped.
See you in the next one
Jack
---
---
---